The Kia Telluride is, to hear many tell it, the best 3-row midsize SUV available. It's been in existence for three years, and it's won our Best Buy Award in its class three times. So, to be more precise, we say the Kia Telluride is the best 3-row midsize SUV available. Its combination of rugged good looks and a feature-packed interior at a reasonable price are hard to beat.
So, how do you improve on success like that? With a few cosmetic tweaks and a few options for those who might want to take it a little further off the road, apparently.
The Telluride is getting a mid-cycle refresh – read: a few minor updates because it's too young for a full overhaul – for the 2023 model year.
Prices for the 2023 Telluride haven't been announced yet. We expect them to fall close to the 2022 model, which starts at $33,090 plus a $1,295 destination fee. This new Telluride should reach dealerships in summer.
Minor Cosmetic Changes Outside
The changes include a few cosmetic tweaks. The distinctive square yellow running lights that tell you that's a Telluride in your rearview mirror have been replaced by two vertical slashes of light bracketing the grille. Both front and rear bumpers have been reworked, though it's easier to spot the changes in front.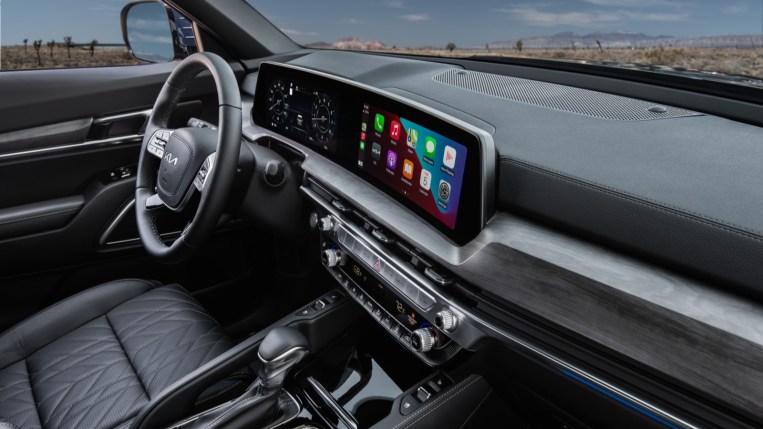 Bigger Facelift Inside
Inside, it gets the signature element of new Kia designs – a single curved housing that makes the driver's instrument screen and central touchscreen look like one wide screen taking up much of the dashboard. It's a handsome look everywhere we've seen it, from the little Sportage to the big Telluride.
There's also a larger multi-color head-up display, so you can spend less time looking at those handsome screens.
New Off-Road Trims
A pair of new trims appear for 2023, each a bit more off-road-worthy than prior Tellies.
The X-Line model sits 0.4 inches higher for added ground clearance and gets 20-inch wheels, reworked traction control for better performance on dirt, and a towing mode complete with trailer sway control.
The X-Pro takes things further, getting all the X-Line equipment plus all-terrain tires and increased towing capacity (5,500 pounds rather than the 5,000 of other trim levels). It rides on smaller 18-inch wheels, which can improve off-road performance by allowing for more flexible sidewall and leaving less rim exposed to potential damage.
Kia's Highway Driving Assist 2 system makes an appearance. It allows autonomous lane changing when using the intelligent cruise control. This marks the first time we've seen it on a vehicle that isn't a Genesis, the luxury division of Hyundai, Kia's corporate cousin.
Source: KBB Feed