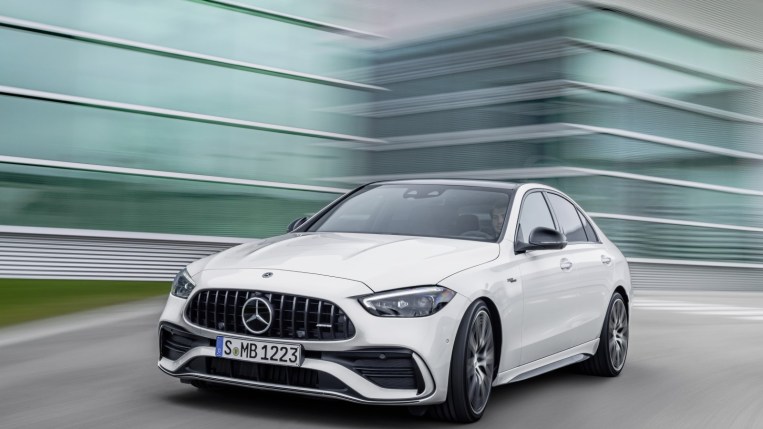 The 2023 Mercedes-AMG C 43 won't be the most powerful version of Mercedes' C-Class small sedan. But it might be the best.
To refresh your memory, the C-Class is often the point of entry to the Mercedes lineup. It competes with the BMW 3 Series and Audi A4 for the attention of buyers looking for a sporty luxury sedan that can serve a family's needs but still provide a thrill when the road gets curvy.
Mercedes brought out an all-new one for 2022, with one of the sharpest interiors we've seen and a mild-hybrid system that borrows Formula 1 technology to provide a boost of power at the touch of a button.
Now, Mercedes' AMG performance division has released the first of two versions of the car it plans to build. A more powerful, more-expensive AMG C 63 is coming later. It will likely borrow a larger engine from a bigger Mercedes to post headline-grabbing numbers. But it will also likely be rare.
The AMG C 43 may be more attainable and, in some ways, more impressive for what it packs into a small package. Mercedes hasn't released pricing info. The standard C-Class starts at $43,550. If the usual AMG rules apply, that means this is most likely about a $60,000 car.
And what a $60,000 car it is.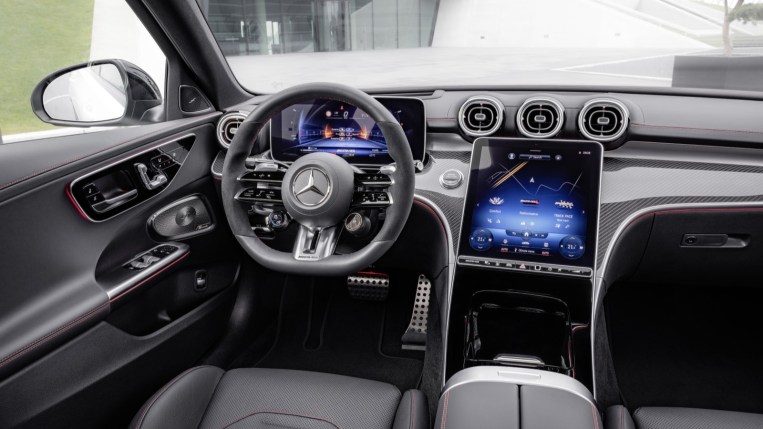 A Flyweight Battle and a New Technology
Automotive engineers are having a truly impressive battle most people won't notice this year. They're competing to see how much power they can squeeze from a small engine. Just three weeks ago, engineers with Toyota's Gazoo Racing division threw down a glove by debuting a new GR Corolla that got an astonishing 300 horsepower out of just three cylinders. Few production engines manage 100 horsepower per cylinder.
The pros from Mercedes' high-performance AMG unit just picked up that glove. Their answer: a 4-cylinder making 402 horsepower.
Under the hood of the AMG C 43 sits a 2.0-liter engine that puts out power only 4-liter engines managed a decade ago. It does it with a combination of that mild-hybrid boost system and a unique electric exhaust gas turbocharger.
Skip this paragraph if engineering bores you. Turbochargers boost engine power by forcing compressed air into an engine's combustion chamber. But they use a turbine driven by the engine's exhaust gas to do it, which means they don't start until after an engine has done enough work to produce some exhaust.
Engineers often minimize that "turbo lag" by using two. A tiny, lightweight turbo boosts power at low speed and passes the job to a larger, heavier one as the engine speeds up. Mercedes' system uses electricity to start the turbine instead, so it kicks in instantly and does the work of both.
The result? 100.25 horsepower per cylinder. The Gazoo engineers nod with respect and go back to the drawing board.
All-Wheel Drive, Rear-Wheel-Steering
That power goes through a 9-speed wet-clutch automatic transmission to all four wheels. Power is biased to the rear – 61% of it goes there – for sportier handling. That handling gets another boost with 4-wheel-steering – rare in a car this small.
AMG says the C 43 should get from 0-60 mph in about 4.5 seconds.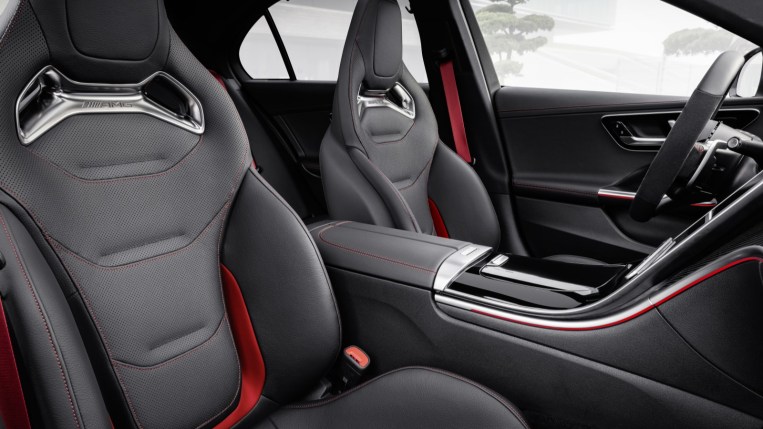 Stealth AMG Looks
Unlike many other AMG products, this one doesn't get radical exterior changes to make its athleticism obvious.
The signature AMG vertical-slat grille lets Mercedes fans know it's not a normal C-Class. An AMG-exclusive bumper has larger air intakes. And four exhaust pipes out back replace the usual two. Otherwise, only the AMG badge gives it away.
Inside, the C 43 gets sport seats covered in Mercedes' proprietary MB-Tex faux leather and microfiber (the fake stuff isn't AMG being cheap; it wears better than real hides over time and stays supple with less intensive care). Real Nappa leather and grippy Alcantara false suede cover the steering wheel. Carbon fiber trim is AMG-exclusive.
The 12.3-inch screen runs the usual MBUX entertainment system. But it also powers an AMG exclusive Track Pace data logger – an option – which records more than 80 vehicle-specific data points such as speed, acceleration, steering angle, and brake pedal actuation 10 times per second.
Source: KBB Feed