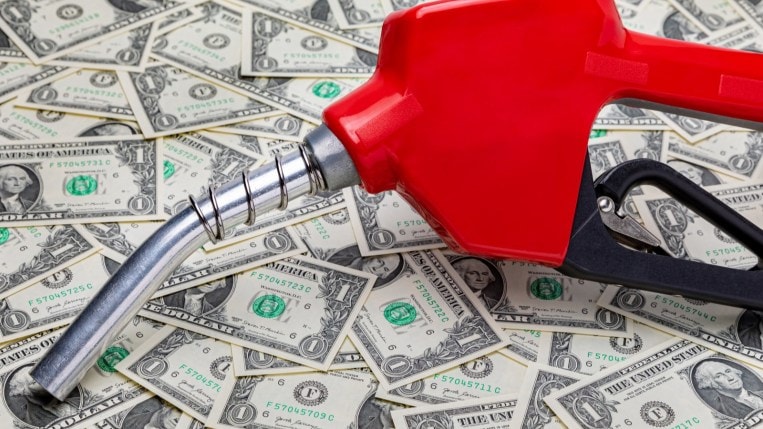 According to AAA, a gallon of gas costs an average of $5.02 nationwide this morning. In hard-hit California, that average is a painful $6.44. Those prices aren't easy on anyone's wallet. But they hurt drivers of some vehicles far more than others.
Kelley Blue Book's annual 5-Year Cost-to-Own research puts the problem in stark perspective.
Our analysts looked at vehicle operating expenses by segment, based on an owner who drives 15,000 miles a year. They found the average driver has spent $164 per month on fuel over the last five years.
But now that fuel has crossed the $5 line, costs are soaring. The more fuel your vehicle requires to drive a mile, the more your cost has increased.
Some Spend About $80 More, Some Nearly $150
Drivers of fuel-efficient compact cars, for instance, spent an average of $125.63 on fuel in June 2021. This month, they'll pay $78.98 more, for a total of $204.61.
Drivers of full-size SUVs, however, spent $232.62 last June. Today, they spend an average of $378.86. They need to come up with $146.24 monthly to drive the same distance.
Even drivers of fuel-efficient hybrids aren't immune. They'll spend nearly $50 per month more at this month's prices than they did a year ago. But drivers of high-performance cars will spend almost three times as much keeping pace with gas price increases.
High gas prices have Americans seeking out more fuel-efficient cars. Yet dealers are running low on them. A global microchip shortage has led automakers to use their small supply of microchips to build their most profitable models, which tend to be larger SUVs and more tech-heavy luxury models. That leaves fewer fuel-efficient small cars rolling out factory doors.
Only Reduced Demand Will Help, but Demand Is Increasing
Gas prices may not stop climbing anytime soon. The economic conditions of this summer have oil companies unlikely to drill for more oil, and many refineries are focusing on making diesel, jet fuel, and other petroleum products rather than gasoline. Gas prices will only go down in that market if Americans stop buying so much gas.
Two weeks ago (the most recent week for which data is available), the U.S. Energy Information Administration says Americans burned about 8% more gas than they did the same week last year.
The Additional Costs:
| | | |
| --- | --- | --- |
| Type of Car | Monthly Gas Cost a $5/Gallon | Increase vs. June 2021 at $3.07/gallon |
| Compact Car | $204.61 | $78.98 |
| Compact SUV/Crossover | $239.92 | $92.61 |
| Entry-Level Luxury Car | $244.39 | $94.33 |
| Full-Size Car | $282.06 | $108.87 |
| Full-Size Pickup Truck | $342.94 | $132.28 |
| Full-Size SUV/Crossover | $378.86 | $146.24 |
| High-Performance Car | $375.81 | $145.06 |
| High-End Luxury Car | $301.03 | $116.20 |
| Hybrid/Alternative Energy Car | $126.58 | $48.86 |
| Luxury Car | $266.25 | $102.77 |
| Luxury Compact SUV/Crossover | $273.32 | $105.50 |
| Luxury Full-Size SUV/Crossover | $380.67 | $146.94 |
| Luxury High-Performance Car | $323.11 | $124.72 |
| Luxury Midsize SUV/Crossover | $306.83 | $118.44 |
| Luxury Sports Car | $284.42 | $109.78 |
| Luxury Subcompact SUV/Crossover | $236.89 | $91.44 |
| Midsize Car | $215.17 | $83.05 |
| Midsize Pickup | $317.56 | $122.58 |
| Midsize SUV/Crossover | $292.50 | $112.91 |
| Minivan | $236.94 | $91.46 |
| Sports Car | $273.03 | $105.39 |
| Sporty Compact Car | $258.28 | $99.70 |
| Subcompact Car | $181.53 | $70.07 |
| Subcompact SUV/Crossover | $238.92 | $92.22 |
| Van | $253.25 | $97.75 |
| Average | $272.78 | $105.29 |
Source: KBB Feed