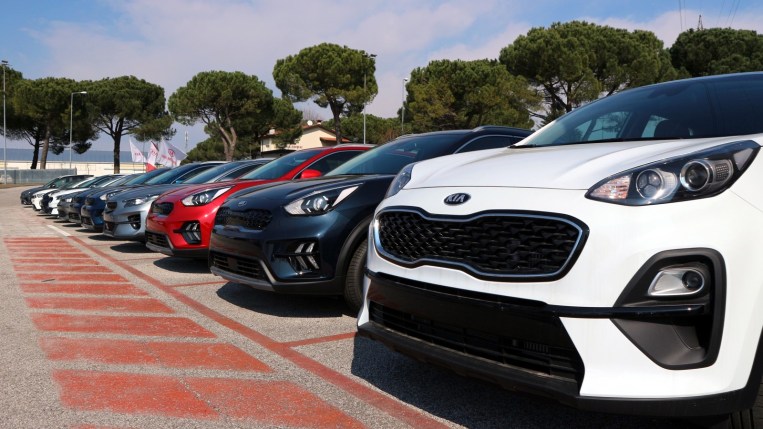 With gas prices breaking records daily, Americans are shopping for more fuel-efficient cars. They're in short supply.
Auto dealers measure the supply of new vehicles for sale with a metric they call "days of inventory" — how long it would take them to sell out at the current sales pace if they didn't acquire any new ones.
The average dealer ended April with 36 days of supply — 40% fewer than one year ago. The total nationwide supply of new cars for sale stood at 1.13 million cars at the end of April. That's barely an improvement from March when it stood at 1.10 million.
"The chip shortage started disrupting vehicle production a year ago at this time. The percentage differences for inventory and days' supply will look less dramatic going forward from here, but that does not mean the situation has vastly improved," said Charlie Chesbrough, Cox Automotive senior economist. "New vehicle inventory remains stuck in that 1-million-to-1.1 million range, far below historical norms."
Cox Automotive is the parent company of Kelley Blue Book.
Fuel-Efficient Cars Hard to Find
With gas prices soaring, Americans are seeking out more fuel-efficient cars.
The Kelley Blue Book Brand Watch reports for the first quarter of the year, when gas prices started to spike, showed fuel efficiency became more important to consumers than in the past five years. Even America's love of SUVs was dented. The 37% of shoppers who considered a sedan or coupe in the first quarter jumped from 31% in the last quarter of 2021.
Compact cars had the lowest inventory among segments, after low-volume high-performance cars. The stock of hybrids, small SUVs, and midsize cars had also dwindled.
Import dealers face the most significant inventory challenges. Among non-luxury brands, Kia, Honda, Toyota, and Subaru had the lowest inventories.
Source: KBB Feed