.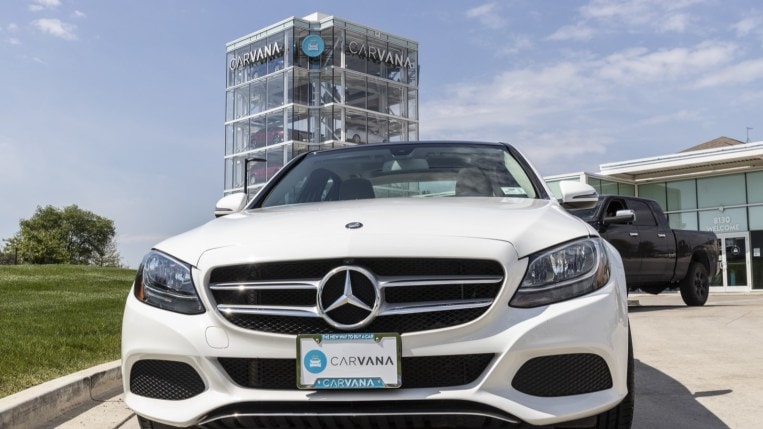 The state of Illinois will let used car giant Carvana resume selling cars after it temporarily revoked the company's license earlier this month. But Carvana must meet specific requirements to protect car shoppers from the title and registration problems that have inundated the Illinois secretary of state's office with complaints.
No More Temporary Plates, Out-of-State Registrations
Henry Haupt, a spokesperson for Illinois Secretary of State Jesse White, explains that the company won't be allowed to issue temporary license plates or out-of-state registration permits.
The state also required Carvana to pay a $250,000 bond. The state will use that money to cover any fines or fees incurred by customers resulting from the company's failure to follow the law.
Carvana grew rapidly during the early months of the COVID-19 pandemic. Studies showed that car shoppers preferred to complete as much of their car shopping process as possible online. Carvana's sales model enabled them to buy a used car almost entirely from home. Customers could even retrieve it from a touchless "car vending machine" in some cities.
Temporarily Suspended in Two States
But regulators in several states have said they've received complaints. Buyers have said that Carvana didn't deliver promised titles or repeatedly sent them temporary registrations, sometimes from out of state. So far, both Illinois and North Carolina have imposed restrictions on the company.
Amid these setbacks, Carvana has laid off at least 12% of its workforce in the past month. Its stock price has fallen from a high of $370 in August to just $31.09 this morning.
New Process to Issue Titles
"We've resumed normal service in the state of Illinois," a Carvana spokesperson said. "Carvana delivered all previously purchased vehicles during this recent period as we discussed the situation with the state."
Under an agreement with the Illinois secretary of state's office, Carvana must now process all title and registration transactions through third-party companies licensed by the state.
Haupt noted, however, that Illinois continues to investigate consumer complaints against the company. The secretary of state, he said, "can reinstate the suspension order at any point."
Source: KBB Feed