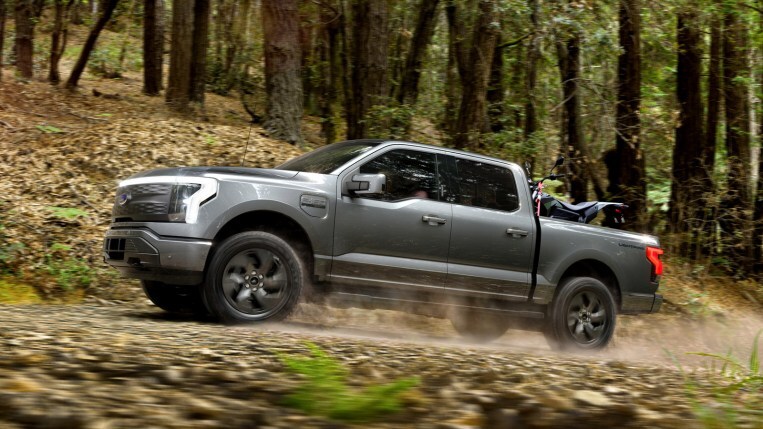 Automakers used to occasionally exaggerate for marketing purposes. They'd overestimate horsepower, or shave a few tenths of a second off a quarter-mile time. They (probably) always got caught, because an extensive automotive press tests everything. Inevitably, a publication would find the lie. So the practice stays rare.
But this is a new one. Ford officials seem to have underestimated how powerful the blue oval's new F-150 Lightning electric truck is.
The Surprise Figures
Ford has revised horsepower and payload estimates for the Lightning. Both versions of the battery-powered pickup are, it turns out, more powerful than Ford initially said.
The company had previously estimated that the standard-range powertrain found in the Lightning Pro work truck put out 426 horsepower. It now says that setup gets 452.
The extended-range powertrain found in the Platinum edition and optional on other trims had been rated for 563 horses. But, Ford now says, that one's really good for 580.
Improved Payload Capacity
The revised power figures mean the Lightning's payload capacity is also better than originally predicted. Ford says the standard-range truck will "haul an extra 235 pounds," which would take its payload capacity to 2,235. Gas-powered F-150s carry anywhere from 1,840 to 3,325 pounds depending on configuration.
It's Already Too Late to Buy One
It's great news for anyone waiting on delivery of a Lightning. But, if you're thinking that these changes put the truck on your shopping list, you're out of luck. Ford sold out of the truck before the first one rolled off the factory line.
Ford sold the Lightning through a reservation system – buyers would pay a refundable $100 reservation fee to claim a place in line, then wait for an invitation to order their truck. The company sold three years' worth of reservations within a few months of announcing the truck. They closed the order books for 2022 last week, with plans to reopen for the 2023 model year soon.
The company says it is working to build extra production capacity to meet the intense demand for this electric truck. It also has a second electric pickup in the works.
Source: KBB Feed