Sometimes even the classics have to evolve to stay relevant.
There's been a Chevy Corvette in production and in the American imagination since 1953. And every one of them has breathed fire, with six or eight cylinders turning tiny explosions into pulse-pounding speed with or without a roof.
In 2023, the first hybrid Corvette will appear. Somewhere down the line, Chevrolet has now confirmed, it will go all-electric.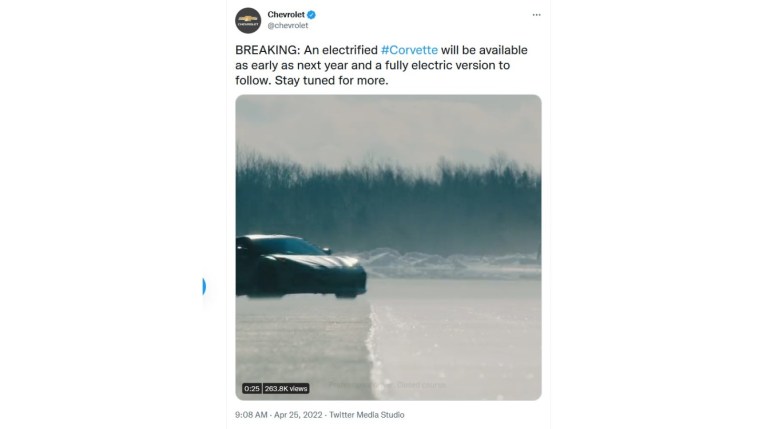 We know little else for now. A brief teaser video posted to YouTube shows the hybrid 'Vette playing in the snow. It inadvertently confirms the coupe is all-wheel drive. A slow-motion start shows the front wheels kicking up flakes before the differential adjusts and the rear wheels kick in.
Shortly after the video appeared, General Motors President Mark Reuss explained in a LinkedIn post that "we will offer an electrified and a fully-electric, Ultium-based Corvette in the future."
Ultium is the name GM uses for a skateboard-like electric car platform. It packs battery, motors, and suspension into one unit. Engineers can scale it up or down to build different types of vehicles.
The Ultium platform has already spawned the GMC Hummer EV pickup and Cadillac Lyriq SUV and will appear in smaller vehicles like the upcoming Chevy Blazer EV soon. In Hummer form, it's good for 1,000 horsepower – a stat no factory Corvette has ever matched.
Source: KBB Feed