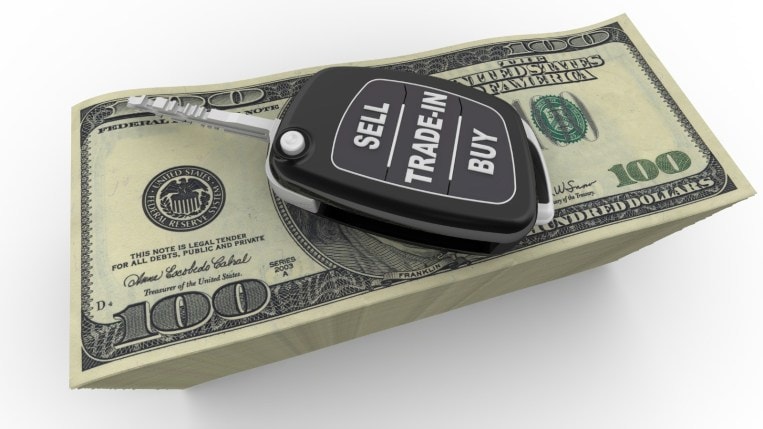 Car prices started going down from a peak high in December. It now appears that prices for both new and used cars have ended their rocket ride, at least for now.
The average new car in America sold for about $45,900 in March, representing a third straight month of declines.
Used car prices dipped some, too. The average used car sold for nearly $27,250 in March. That also reflects three months of price drops.
So, is it time to head out to buy a car? Read on.
Supply Chain Problems = Higher Car Prices

A collision of crises disrupting the supply chain has left automakers unable to build new cars fast enough to meet consumer demand. The worst of them, an ongoing worldwide shortage of microchips, keeps stubbornly hanging on. General Motors temporarily shuttered some factory lines in March. New COVID-19 outbreaks in Asia pushed Toyota to trim production. And the ongoing war in Ukraine caused some automakers to struggle with parts shortages.
All of those factors combine to keep prices high. "With a myriad of supply chain issues disrupting global vehicle production, we expect inventory to remain tight through the rest of the year and prices to remain high," said Michelle Krebs, executive analyst for Cox Automotive. Cox Automotive is the parent company of Kelley Blue Book.
And make no mistake: Prices may have come down a bit, but they remain historically high. In March, the average non-luxury buyer paid $970 more than MSRP for their new car. The average luxury buyer paid a shocking $2,550 over the sticker price.
Does that mean it's time to venture out looking for a new or used car? How does it compute when selling or trading in your vehicle?
RELATED STORIES: Ordering a Car From the Factory: Everything You Need to Know
New Car Prices Will Come Down Slowly

"We expect vehicle supply to improve," Krebs said. But inventory will "continue to be tight, particularly through the first half of the year.
"Because of this, we expect prices to remain high for the foreseeable future, but car shoppers can rest assured we don't anticipate any more record highs."
High Gas Prices Push Buyers to Consider Fuel-Efficient Cars
If you're looking for a more fuel-efficient car, we have mostly bad news. With gas prices spiking this spring, many Americans switched to shopping for electric vehicles (EVs), hybrids, and small cars. But dealers have few of them to offer.
Used Car Prices May Go Back Up Soon

The used car market news looks worse. While vehicle prices began declining in January from all-time highs, they typically climb in early spring due to seasonal demand.
You see, the IRS is slightly behind schedule in issuing tax refunds this year. That has some shoppers delaying purchases. However, as tax refunds start hitting bank accounts, prices could actually bounce back up when consumers get back out there to spend on high-ticket purchases like vehicles.
Used Car Supply is Limited But Improving
The nationwide inventory of used cars for sale is starting to show signs of a recovery. Dealers stocked 2.54 million used vehicles in inventory at the end of March. It's still historically low but 5% higher than this time last year.
But even that inventory growth may be contributing to price increases. Because while dealers can offer more used cars for sale, they're mostly expensive vehicles.
Older, Less-Expensive Cars are the Hardest to Find
Waves hit the used car market years after they affected new car sales.
Thanks to the Great Recession of 2007 to 2009 and its aftermath, sales of new cars fell dramatically through 2013. Today that leaves used car dealers with few high-mileage, older vehicles for less than $10,000.
Used cars priced under $10,000 remain in the shortest supply. Vehicles in the $10,000 to $15,000 range are almost as hard to find. Those priced over $25,000 are most plentiful.
How to Buy a Car Right Now
If you want to purchase a new or used vehicle, be prepared for sticker shock.
RELATED STORIES: Buyer Beware: How to Avoid Dealer Markups in 2022
But take stock in some good news that the next car you buy will likely last a long time and help you drive safer than ever with all the technology advances and offerings.
Vehicle quality studies repeatedly show that today's new cars suffer fewer problems than those from just a few years before. The average vehicle on American roads is now more than 12 years old. That means that any buyers of higher-priced used cars will likely see the car driving on the road even longer. The same goes for those buying new ones.
With most automakers now building such durable cars, they compete by adding more and more high-tech features. Options like adaptive cruise control and Apple CarPlay are now more common than ever on entry-level vehicles.
How to Sell a Car Now
Few of us are in the position of selling a car without needing to buy a replacement for it. But, if that's you, what are you waiting for? There may never be a better time to sell your existing car for top dollar.
The best way to get the most money for your used car is to sell it privately. But if you don't want the hassle, this is a perfect time to sell to a dealership.
Dealers are hurting for cars to sell. They're particularly desperate for older, higher-mileage models. As their inventory recovers, they'll be less motivated, so now is the right time to approach them.
Trading-in a Car Now
The same forces that work against you if you're buying can help you if you're selling or trading in a used car.
A higher price for the car you're trading in can help get you into a newer car more easily. In this market, you might even want to try this trick: shop your trade-in around.
Research the Kelley Blue Book value of your vehicle, then call several local dealerships to see what they'll offer you for it. Or try our Instant Cash Offer tool, which brings the deal to you from various dealerships without obligation. You can choose the offer you prefer or use it to negotiate with others.
Each dealership differs in its needs. Some might be willing to pay more for your trade-in than others. Savvy shoppers know to shop their trade-in to several dealerships to see what they can get for it.
Looking Ahead
If you can afford to wait, the second half of 2022 is starting to look better for buying.
Inventory is slowly beginning to recover, particularly in the used market. Many analysts expect the microchip shortage to ease by fall. However, BMW's Chief Executive Oliver Zipse predicts it lasting into 2023.
Also, manufacturers don't plan to return to pre-pandemic inventories. But, to compete better with one another, carmakers may begin building more inexpensive models to satisfy pent-up demand. That could lure some shoppers back to new car showrooms, so you'll see less competition on the used car lot.
A Used Car Price Crash? Not Likely
Soaring used car prices have led some to speculate that an economic bubble has formed. Could used car prices come down in 2022 as fast as they shot up in 2021?
Not likely. Cox Automotive Chief Economist Jonathan Smoke said, "The core argument behind the crash scenario seems to rest on the premise that retail used vehicle prices and retail new vehicle prices are severely out of whack."
They're not. In 2019, before the pandemic's massive disruption, the average new-vehicle price was 179% of the average used-vehicle price. Today, it's 163%. That makes a sudden crash in used car prices unlikely.
There are reasons to believe conditions will improve in 2022. But it will take months and occur slowly as the microchip supply recovers.
Tips for Buying a Vehicle Right Now
If you must shop right now, we recommend a few strategies that might help you find the right new or used car that fits your budget.
Expand your search. Widen your search to a broader geographic area.
Stay patient. Call dealerships early and often to see what's coming off the trucks. Leave a refundable deposit if you want first dibs.
Understand the timing. Be prepared to shop for several weeks and know it involves calling or visiting dozens of dealerships as you look for the right fit.
Don't jump. Shop around your trade-in as aggressively as you seek out the right car. Don't accept the first offer. You could sell yourself short in such a good market.
It may still make sense to keep your existing car for another year if you can. If you must buy, be prepared to take excellent care of your next car to keep it running for a long time.
Read More: 10 Best New Car Deals
Related Stories About Car Buying and Selling:
This article has been updated since it was originally published.
Source: KBB Feed