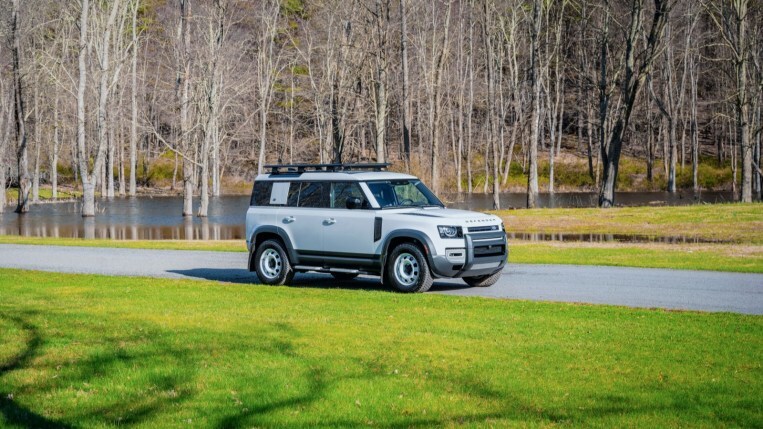 2023 will be the 30th anniversary of the Land Rover Defender. Sort of. Land Rover is going to celebrate in style. Old-school, steel-wheel style.
A Classic to Remember
Land Rover introduced the Defender in its home market of Great Britain in 1983 but brought the first Defenders to North America in 1993. That first batch came to the U.S. in white, riding on white-painted steel wheels. They were fully loaded by Land Rover's 1990s standards, which meant lots of rugged features like brush guards and a roof-mounted basket.
Luxury features? Well, they were air-conditioned. That's what passed as high-luxe for Land Rover back then.
In New Luxury
Today, the Defender is decidedly a luxury vehicle. Available as the short-wheelbase Defender 90 and stretched Defender 110, the 2022 Defender comes in an ultra-exclusive Carpathian Edition with a 6-figure price tag, Windsor leather upholstery, a heated suede steering wheel, heated and cooled seats, a built-in drink refrigerator, and a surround-sound audio system by Meridian – a long way from painted steelies.
But Land Rover plans to salute its heritage with a callback to the old days.
The 2023 Defender 110 30th anniversary edition comes in Fuji White with painted steel wheels – glossier than the 1990s basics but still old-school enough to beg for U.N. logos on the doors. They lack a brush guard but get a roof-mounted cargo box complete with a side-mounted ladder.
The 30th anniversary edition will carry a $75,000 price tag, plus $1,350 for delivery. If, that is, you can find one. Land Rover plans to build just 500 and sell them through select dealerships.
They'll be plenty off-road capable, with Land Rover's climate package, tow package, and off-road package all standard. And they won't lack for luxury. Ebony-grained leather seating surfaces, a panoramic sunroof, and tri-zone climate control seem extravagant next to the 1990s originals.
Source: KBB Feed