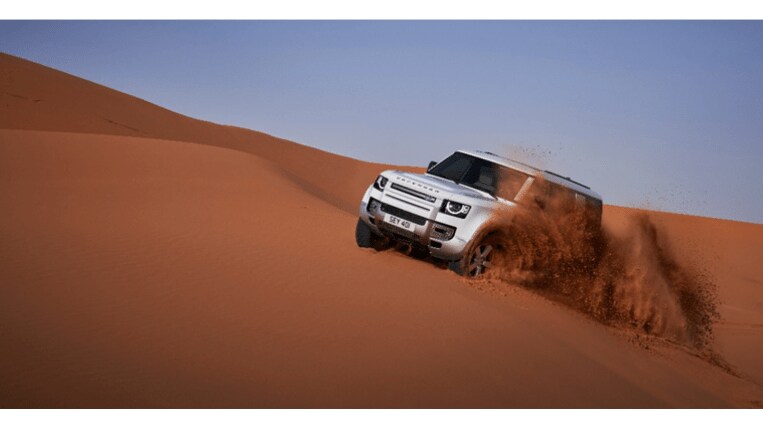 Land Rover will introduce a longer, 8-seat version of its Defender midsize luxury SUV at the end of this month.
The Defender already comes in two sizes. The 2-door Defender 90 has a reputation as one of the most capable off-road vehicles in the world, with the added virtue of exceptionally luxurious interior materials. The 4-door Defender 110 adds a more accessible second row and a pretend third row. Well, okay, there's a third row back there, but even Rover's advertising materials say the vehicle has "5+2" seats, not seven seats. As in five adults plus two kids, or five comfortable people, and two you don't like as much.
But the original Defender, in the 1980s, had a real 3-row option. It's coming back.
The Defender 130 will be a genuine 3-row luxury SUV, Land Rover says, with seating for eight. Earlier reports have said it rides on the same wheelbase as the 110 but with overall length boosted by about 13 inches. That should give it the same excellent approach and breakover angles as its Defender siblings, but more rear overhang, so a less-impressive departure angle.
The Defender 110 starts at $53,400. A third row is likely to add to that price, but not by much. As always with Land Rover, we expect to see an extensive list of trim levels and options in case you'd really like to spend more. The 110 tops out at over $111,000.
Land Rover provided no mechanical details, but we'd be surprised to see new powertrain choices given that the chassis is shared with the 110. So we expect to see the same turbocharged 4-cylinder, mild-hybrid 6-cylinder, and supercharged V8 options as the rest of the lineup.
We'll know more after the full reveal on May 31.
Source: KBB Feed