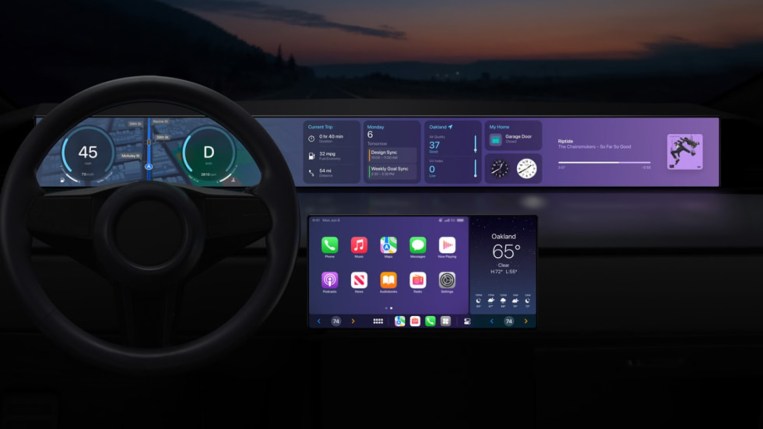 The current generation of Apple CarPlay will let your phone interface with your car. The next generation of Apple CarPlay will let your phone control your car.
That's the takeaway from WWDC 2022, the developer conference Apple uses as a showcase for new and future products.
Today's CarPlay
Apple CarPlay today is an interface that essentially turns your car's infotainment screen into your phone screen. It connects with a wire in some cars and wirelessly in others, but it's present on most of the cars for sale today – Apple says about 98% of the cars for sale in the U.S. today now offer CarPlay as an option or standard equipment.
With CarPlay, you can control your favorite apps through the touchscreen or voice commands and even send and receive text messages without taking your eyes from the road (Siri reads them to you).
Tomorrow's CarPlay
The next version of the system, however, won't be limited to the infotainment screen. Users will be able to run it on every screen in the car – including the screen that takes the place of the driver's gauge cluster in many new cars.
That means CarPlay will display your speedometer. CarPlay will display your odometer. If you are driving an EV, CarPlay will display the state of the battery. Drivers will be able to adjust climate control settings with voice commands.
CarPlay will offer a selection of visual themes, letting drivers customize the colors and look of all their in-car screens at once.
Questions Remain
That's about all we know for now. Apple used the conference to tease the next generation of CarPlay, not explain it in detail.
"More information about the next generation of CarPlay will be shared in the future," the company says.
Among the questions we'd like to see answered:
How customizable will the interface be? If you'd like to set the temperature in your car with voice commands but don't want Apple tracking your engine temperature or displaying check engine lights, can you use some functions but not others?
For cars with screens at multiple seating positions, can different phones control different screens? The 2022 Jeep Grand Cherokee L, for instance, can be ordered with a screen for every passenger. Will they each be able to double their phone's screen on their touchscreen? The 2023 Lexus LX 600 has more screens than passenger capacity. How will that work?
Not Backward-Compatible; First Cars Next Year
One thing that is clear – if you have CarPlay now, you won't be able to download an update that lets the new CarPlay change your air conditioner. The next generation of CarPlay will work only on cars designed for it.
Apple says the first of those will roll out in 2023. It hasn't said which manufacturer will offer the updated system first but lists Acura, Audi, Ford, Honda, Jaguar-Land Rover, Lincoln, Mercedes-Benz, Nissan, Porsche, Volvo, and Polestar as companies that are "excited to bring this new vision of CarPlay to customers."
Source: KBB Feed