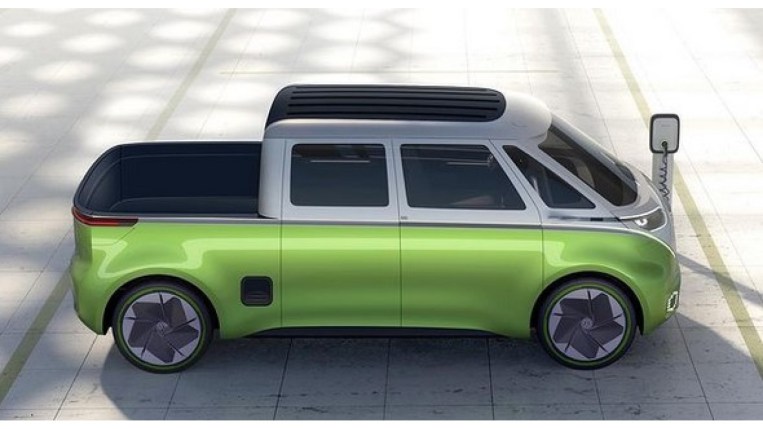 Your Friday weirdness:
"Shall we bring it to the next level?"
That's the question Volkswagen design head Klaus Zyciora asked when he posted a rendering of a pickup truck version of the company's upcoming ID.Buzz electric van to Instagram in celebration of World Design Day.
The ID.Buzz is an all-electric reimagining of the classic Volkswagen Microbus due to reach dealerships for the 2024 model year.
There's a Chance This is Real
VW may have plans to build an electric pickup. It could wear an Audi badge. The head of its Audi luxury division recently suggested that an Audi-badged electric pickup could be in the works.
Or it could be a Volkswagen product. Reuters reports that the company "is considering an expansion of its Chattanooga [Tennessee] plant in the United States to produce an electric pick-up and the new ID.Buzz microbus."
Overseas, VW builds a pickup under the name Amorak. A new Amorak is planned for 2023. It shares its underpinnings with the European version of the Ford Ranger midsize truck.
Bear with us a moment, as the names get a little confusing.
For the 2022 model year, Ford builds a Ranger for the U.S. market and an entirely different one outside the U.S. It plans to bring that foreign-market Ranger to the U.S. next year as the all-new 2023 Ranger. The VW Amorak uses the Euro Ranger platform.
Ford hinted this week that an all-electric Ranger may be in the works. It's at least possible that VW will use the same electric platform for an Amorak-badged truck in the U.S.
But we've heard no hints at a Ford/VW partnership in the U.S., and Ford has staked so much of its reputation on becoming the electric truck leader that we're skeptical the company would agree to share its work with anyone.
So a VW electric pickup destined for Tennessee could more easily be this – an ID.Buzz cab with a short bed grafted onto the back.
Building two models on two different platforms is harder and more expensive than building two models that share most parts. So a pickup version of the ID.Buzz might make more sense.
Thank Chickens and Lyndon B. Johnson
There's a historical irony at play here as well. Bear with us again, as this gets really weird. It involves the original VW microbus, Lyndon B. Johnson, and chicken prices. Not kidding.
One of the weirdest factors shaping the global auto market is an obscure American law known as the "chicken tax." In the 1960s, European farmers objected to the arrival of cheap American chicken in European markets. European governments restricted chicken imports to protect them.
In retaliation, America passed a tax on certain European imports. Chief among them? Small trucks. American automakers pushed a ban on the import of small trucks in part to stem the popularity of the original microbus, which was legally classified as a light truck.
The chicken price battle is long over. But the chicken tax is still law.
The chicken tax makes it expensive to import pickups built outside North America. It's the chief reason that many inexpensive smaller pickups popular overseas, like those built by Mitsubishi, are forbidden fruit in the U.S.
If VW wanted to build a truck, they'd need to build it in North America to avoid hefty import taxes.
If VW built a pickup based on the successor to the microbus in Tennessee to evade the chicken tax, several historical trends would come together in the most ironic possible way.
It Might Make Good Business Sense
Zyciora may have simply been acting playful in posting the rendering above. But an ID.Buzz-based pickup also makes a lot of business sense.
Such a vehicle might do well battling the wildly successful Ford Maverick. The Maverick's compact dimensions and fuel-efficient hybrid option helped Ford sell out of the truck and win many automotive awards, including our own Best New Model trophy. It proved a market for practical, efficient trucks with small beds.
Ford has also proven the marketability of electric pickups, selling out of its new F-150 Lightning before production began.
The ID.Buzz, like many electric vehicles, is built on a skateboard-like platform that packs batteries, motors, and suspension all into one unit beneath the cabin floor. Such platforms are useful in part because designers can easily and cheaply repurpose them for other vehicles. Why not use an existing design to enter a new market quickly?
And it's cute, isn't it?
Source: KBB Feed