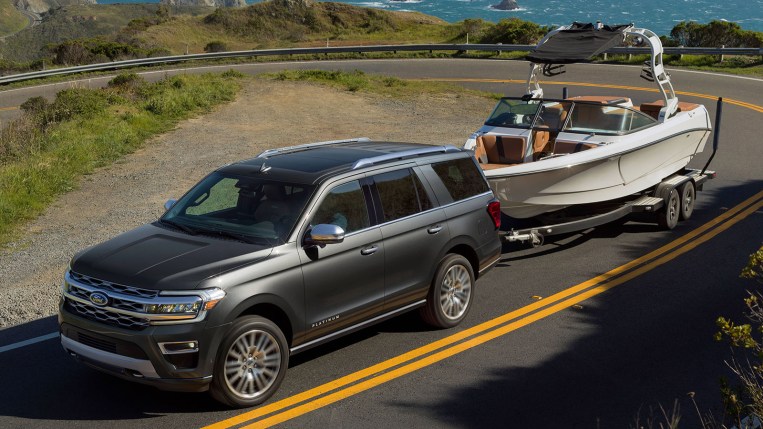 Choosing the Right SUV for Towing
When you choose an SUV for towing, the two most important pieces of information to know are the weight of the loaded trailer you intend to pull and the SUV's tow rating. Clearly, if your trailer weighs more than your SUV can tow, you won't be able to move that load safely. So, the SUV's capabilities absolutely have to match the trailer. But depending on the manufacturer and the SUV in question, that tow spec can get a little murky. Here's why.
Not All Models are Rated Equally
SUV manufacturers will often hype the maximum tow rating for a particular vehicle. But that doesn't mean that every model in the range is rated to tow the same weight. It can be confusing to know which engine needs to be selected and which option packages need to be baked into the vehicle to get the highest tow rating.
You May Need the Tow Package
In some cases, opting for the most powerful engine translates to increased towing capability. But sometimes more equipment is needed. For example, the midsize GMC Acadia SUV has a wide band of capability when it comes to towing. The 4-cylinder models are rated to tow just 1,000 pounds. But check the option box for both the V6 and a specialized tow package, and those GMCs can handle 4,000 pounds. That's a massive difference.
Opting for that factory-equipped tow package can be helpful if you plan to hitch up to a trailer. Some manufacturers even require a factory-installed hitch to get that maximum tow rating. Many of these tow packages include the trailer hitch itself and specialized wiring and often additional parts and equipment designed to handle the stresses of towing, like a transmission cooler or a higher-capacity alternator. Some of the more sophisticated models have a trailer-sway control system and cameras to help guide you when hitching up. That's money well spent.
4-Wheel Drive or All-Wheel Drive?
There are other features to consider beyond opting for a specific tow package. To get the maximum tow rating, some manufacturers require all-wheel drive or 4-wheel drive. And having all four wheels pulling can make towing in poor weather conditions much less stressful. But even if you live in the sunbelt, 4WD has towing advantages. A 4WD or all-wheel-drive tow vehicle can help maintain traction on a slippery boat launch or add a measure of confidence towing a trailer of ATVs down a rough dirt road.
What You Should Know About Towing Weight
Just knowing the maximum trailer towing weight rating for your vehicle is only part of the story. There are some important terms to know, too. And many of these are listed on a sticker that you will find on the door jamb of an SUV.
The maximum weight the vehicle can carry including cargo, people, and trailer tongue weight.
GVWR
The Gross Vehicle Weight Rating is the weight of the empty vehicle plus the payload added together. In other words, the total weight of a loaded vehicle.
GCWR
The Gross Combined Weight Rating is the GVWR plus the maximum loaded trailer weight.
Why is the Payload Important?
It's important to know the tow vehicle's payload because it includes the tongue weight of the trailer — how much weight the trailer is pushing down on the hitch. That number should be 10-15% of the total trailer weight. So, an SUV towing a 5,000-pound trailer should have about 500 pounds of tongue weight on the hitch. How much payload is left after that for carrying passengers and cargo?
Let's say that SUV's payload is 1,200 pounds. It means you can carry 700 pounds of people and gear when towing that 5,000-pound trailer without going over the vehicle's payload rating. Most vehicles engineered for towing will have a reasonable cushion to carry people and cargo when towing. But if you plan to carry lots of people and load the SUV with heavy cargo, make sure the SUV's payload rating is up to the task.
Typical Trailer Weights
How much do average trailers weigh? They can vary wildly depending upon trailer construction and what specific things are loaded on them. Here are some very generalized weight ranges of popular trailers that SUVs tow. These are the loaded weights of the trailers.
Light Trailers
Personal watercraft/ATV/dirt bikes: 1,000-1,500 pounds
Small fishing boat: 2,000-3,000 pounds
Medium Trailers
18-foot camping trailer: 3,000-4,000 pounds
Two-horse trailer: 4,000 to 5,000 pounds
Heavy Trailers
Two-axle trailer with a recreational 4×4: 7,000-8,000 pounds
20-foot camping toy hauler: 8,000-9,000 pounds
See the Best Cars, Trucks and SUVs for Camping.
Do Not Go Over the Vehicle's Tow Rating
It might be tempting to hitch up a trailer with a weight just above the tow rating for your vehicle. But that's a really bad idea. The manufacturers make sure their vehicles comply with the Society of Automotive Engineers (SAE) standard (J2807) for passenger vehicle tow weight ratings. Every mechanical system on the vehicle has to work harder when towing. And exceeding the tow rating will bring excess heat and strain to those systems that could eventually cause failure.
Adding Tall Tires
Flashy aftermarket wheels and taller tires can be enticing for those looking to personalize their SUV. But if you plan on towing, don't bolt on a new set of wheels and tires without doing some research. If the diameter of that wheel and tire package is taller than the setup that came from the factory, the difference in height will affect the vehicle's performance. Depending on the SUV, taller tires can take more engine torque to get moving from a stop and cause the transmission to work harder to keep the engine in the powerband on the freeway. Add a heavy trailer to the mix, and the effects could multiply, taxing everything from the engine to transmission to brakes.
Tire Load Ratings
Even if those new wheels and tires are the same height as the factory ones, they have to be rated to carry the same weight. So be sure to choose a tire with the same load rating as the stock tires and be sure they are inflated to the correct pressure to handle the extra weight. A lap through the owner's manual for your SUV should provide some guidance. Many times, the recommended inflation pressure is posted on a sticker inside the door jamb. However, a vehicle loaded down with people, cargo, and tongue weight could require more inflation pressure. And the wrong pressure could mean excess heat buildup in the tires and open up the potential for a failure. Be sure to check those tire pressures first thing in the morning before you drive when the tires are cold. –Advice by Ben Stewart
Best Full-Size SUVs for Towing
2022 Jeep Wagoneer
Towing Capacity: 10,000 pounds
MSRP: $58,995 | Rating: 4.7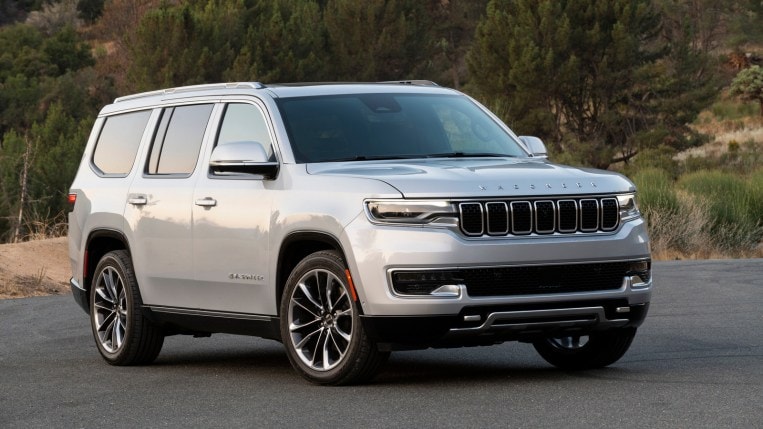 The SUV with the highest towing capacity is the 2022 Jeep Wagoneer, at a stunning 10,000 pounds. The 2022 model year sees the revival of the classic Wagoneer and Grand Wagoneer names, and Jeep went big with the reintroduction of these brands. Not only are these SUVs the first full-size models Jeep has had in its portfolio since 1991, but they are the most luxurious models ever to wear the Jeep badge. The Wagoneer competes with the Ford Expedition and the Chevy Tahoe, while the Grand Wagoneer lines up with the Lincoln Navigator and Cadillac Escalade.
The Wagoneer comes standard with a 5.7-liter V8 under the hood. With 392 horsepower and 404 lb-ft of torque, the Wagoneer's standard engine has the pulling power to make towing a boat, RV, or trailer a snap. If you move up to the ultra-lux Grand Wagoneer, it comes standard with a 6.4-liter V8 that puts out 471 horsepower and 455 lb-ft of torque. That makes the luxurious Grand Wagoneer fast for its size, but reduces maximum towing capacity a bit to 9,850 pounds.
If you want to achieve the Wagoneer's 10,000-pound towing capacity, you will have to spend more than the base price on this SUV. According to Jeep, the base towing capacity for the Wagoneer is 7,170 pounds. The least expensive way to get the Wagoneer with a 10,000-pound towing capacity is to get the 4-wheel-drive Series I and add the Heavy-Duty Trailer Tow Package for $1,495. With that package, you get a 3.92 rear axle, heavy-duty engine cooling, electronic limited-slip rear differential, trailer brake controller, and camera-based features that make it easier to guide the Wagoneer toward the trailer hitch when hooking up. See Jeep Wagoneers for sale
2022 Ford Expedition
Towing Capacity: 9,300 pounds
MSRP: $52,620 | Rating: 4.8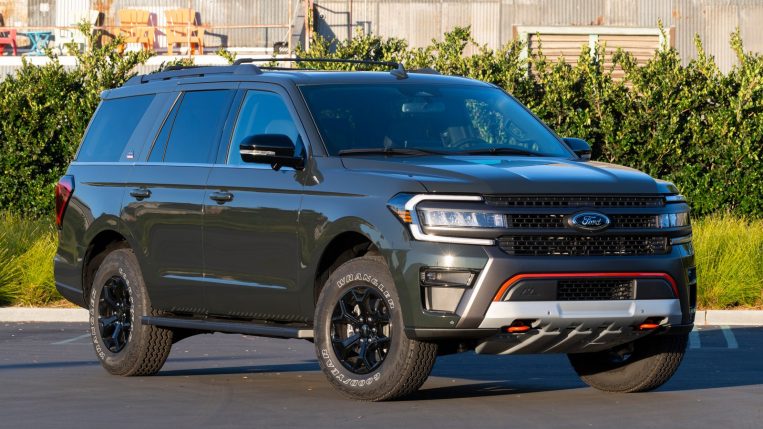 The Ford Expedition received a significant update for 2022, with revised styling up front, new tech features in the cabin, and an updated infotainment system. There's also a new Timberline version (replacing last year's FX4), the updated Platinum trim level, and the Stealth Performance package. But what hasn't changed is the Expedition's incredible capability. With the Expedition, you can tow up to 9,300 pounds — 9,000 with the long-wheelbase Expedition Max. They are both powered by Ford's torquey twin-turbo 3.5-liter EcoBoost V6, which makes 470 lb-ft of torque (480 lb-ft on Platinum trim models) at an impressively low 2,250 rpm. The closely spaced ratios of the 10-speed automatic make the absolute most of the torque. New for 2022, you can get a higher-output version of this engine in the Timberline and Stealth, with 440 horsepower and 510 lb-ft of torque.
Standard 4-wheel-drive models can tow 6,500 pounds. To get an Expedition that provides the highest towing capacity, you will have to opt for Ford's $795 heavy-duty trailering package. This consists of extra hardware and tech, including a 3.73 rear axle, larger radiator, an integrated trailer brake controller, reverse backup assist, and Pro Trailer Backup Assist. That last one allows the driver to use a knob on the dash to steer the trailer in the direction you want it to go. This trailering package includes a lot of helpful features for a reasonable price.
Ford has a few other features that can help with towing, including a 360-degree camera and an electronic limited-slip differential. See Ford Expeditions for sale
2022 Nissan Armada
Towing Capacity: 8,500 pounds
MSRP: $49,150 | Rating: 4.0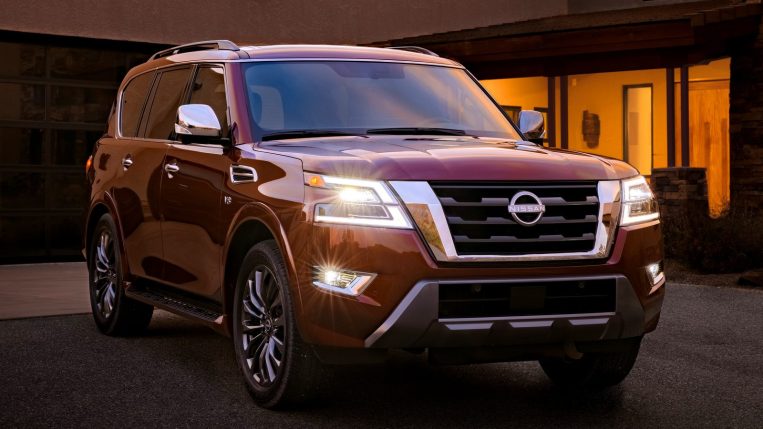 While the Wagoneer and the Expedition boast higher maximum towing capacity, the Nissan Armada has the highest standard towing capacity of any full-size SUV — 8,500 pounds. This means you won't have to order a heavy-duty towing package. The Armada comes standard with an auto-leveling suspension, the Intelligent Around-View Monitor, a hitch, and a 7-pin connector; all you'll need is a receiver ball. In addition, the base Armada is pre-wired for a trailer brake controller. On SV-and-higher models, an integrated trailer brake controller comes standard, and it's wired right into the dash. Once you move up to the SL or Platinum model, trailer sway control comes standard. This system helps reduce unwanted trailer movement. The Armada is powered by a 400-horsepower 5.6-liter V8 with 413 lb-ft of torque. See Nissan Armadas for sale
2022 Chevrolet Tahoe and GMC Yukon
Towing Capacity: 8,400 pounds
MSRP: $50,500 | Rating: 4.6 (Tahoe)
MSRP: $52,500 | Rating: 4.5 (Yukon)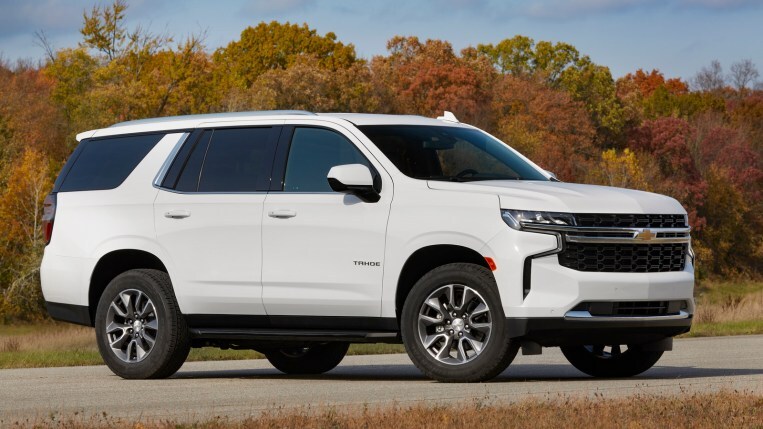 While the styling, interiors, trim levels, and features in the Chevrolet Tahoe and GMC Yukon are different, they're based on the same platform. This is why these two models have the same towing capacity. The Tahoe and Yukon were redesigned for 2021, and with that came an all-new chassis with 4-wheel independent suspension. In the case of these SUVs, the smaller V8 engines are the ones that allow the highest towing capacity. Those who want their vehicle with an 8,400-pound max towing capacity should shop for a Tahoe or Yukon with the 5.3-liter V8 and rear-wheel drive. If you want 4-wheel drive, your maximum towing capacity is 8,200 pounds. In addition, if you choose the 420-horsepower 6.2-liter V8 with 4WD, you can tow 8,100 pounds. With the 3.0-liter turbodiesel and 4-wheel drive, the rating drops to 8,000 pounds.
Keep in mind that these tow ratings apply if the Tahoe and Yukon are equipped with the Max Trailering Package ($250 with the Tahoe, $465 in the Yukon). The package includes an enhanced cooling radiator, a 2-speed transfer case with 4WD models, and additional content.
Other handy towing options are bundled into packages. You can get an in-vehicle trailering app, a blind-zone alert system for the trailer, and a tire pressure monitor for the trailer tires. There's even a multi-height load-leveling suspension that is available in the Tahoe Z71 and the Yukon AT4. The longer-wheelbase Suburban and Yukon XL models offer towing capacities in the same ballpark — they're just lower by 500-600 pounds. See Chevrolet Tahoes for sale
2022 Lexus LX
Towing Capacity: 8,000 pounds
MSRP: $86,900 | Rating: 4.4
The Lexus LX is all-new for 2022 and, in some ways, serves as the replacement for the Toyota Land Cruiser in the U.S. In fact, the LX uses the same platform as the global Land Cruiser, which is not coming to America. The LX is powered by a 409-horsepower 3.5-liter twin-turbo V6 with a whopping 479 lb-ft of torque. This engine is backed by a 10-speed automatic transmission. The LX comes very well equipped, including 4-wheel drive and trailer sway control standard. So every LX is rated to tow 8,000 pounds. Interestingly, the starting price of the 2022 LX is only about $1,300 more than the outgoing Land Cruiser. It's an expensive SUV, to be sure, but it's a powerful, refined, capable full-size vehicle loaded with luxury and backed by Lexus's trademark reliability. See Lexus LX models for sale
Best Midsize SUVs for Towing
2022 Dodge Durango
Towing Capacity: 8,700 pounds
MSRP: $36,995 | Rating: 3.1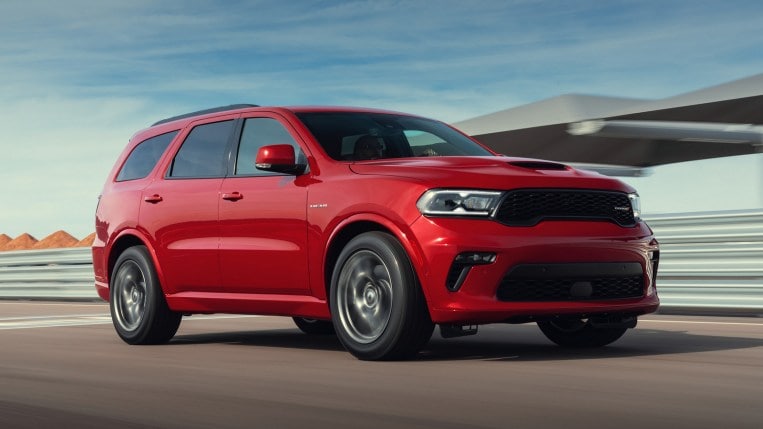 The Dodge Durango is the best SUV for towing in the midsize class, with a top towing capacity of 8,700 pounds. But even the Durango's base model, the rear-wheel-drive SXT with the 6-cylinder engine, can tow 6,200 pounds. And for 2022, there are two ways to get a Durango that can tow the maximum capacity. The first way is to get this Dodge SUV with the 6.4-liter V8. That's the SRT 392 Durango and the 710-horsepower supercharged Durango SRT Hellcat.
The second way is to get the Durango R/T, which uses a 360-horsepower 5.7-liter V8, with the Tow n' Go package. This includes an electronic limited-slip differential, a trailer brake controller, automatic headlight leveling, upgraded brakes and suspension, and a Class IV trailer hitch. If you don't need to tow as much, you can get into a 5.7-liter V8 Durango with all-wheel drive and tow a 7,200-pound trailer. See Dodge Durangos for sale
2022 Land Rover Defender
Towing Capacity: 8,201 pounds
MSRP: $51,700 (Defender 90) | Rating: 4.6
While the Land Rover Defender made its name on incredible off-road capability, it's also highly capable when it comes to towing. The Defender is available with three engines. If you choose the 296-horsepower turbocharged 2.0-liter 4-cylinder engine, your Defender will be able to tow 7,716 pounds. That applies to both the Defender 90 (2-door) and 110 (4-door). However, if you choose the 395-horsepower 6-cylinder engine or the 5.0-liter 518-horsepower V8, you can tow 8,201 pounds. Side note: If you want a Land Rover that offers three rows of seats and a nicer on-road demeanor, the Discovery can tow the same amount.
The Defender is capable of towing at this level right off the dealer lot. However, the available Towing Pack ($1,630) adds all-terrain progress control (which keeps a set speed off-road), a tow hitch receiver, Terrain Response 2, and advanced tow assist. This last feature lets you use the multi-function knob to back the trailer in the direction you want it to go. See Land Rover Defenders for sale
2022 Audi Q7
Towing Capacity: 7,700 pounds
MSRP: $57,500 | Rating: 4.6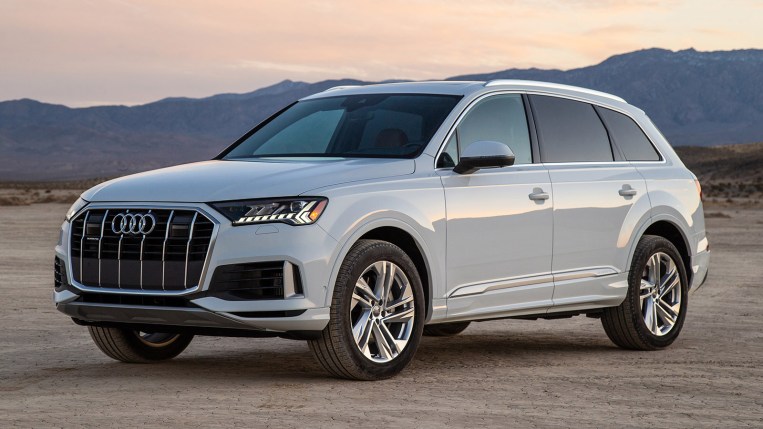 Audi's spacious midsize luxury SUV offers an appealing mix of a smooth ride and excellent handling. And its elegant interior is filled with useful, modern tech. When equipped with the 4-cylinder base engine, the Audi Q7 can tow 4,400 pounds. However, move up to the 55 TFSI model, powered by a 335-horsepower 6-cylinder engine, or the high-performance V8-powered SQ7 with 500 horsepower, and you can tow nearly 8,000 pounds. That's enough capability to tow a medium-size camper or even a small horse trailer. If you're planning to use your Q7 to tow, opt for the $750 towing package. It comes with a hitch and a 7-pin connector. If your budget allows for the top-of-the-line Prestige model, the Q7 benefits from adaptive air suspension. And with this model, you can also add all-wheel steering for $1,500. See Audi Q7 models for sale
2022 Mercedes-Benz GLE
Towing Capacity: 7,700 pounds
MSRP: $56,150 | Rating: 4.3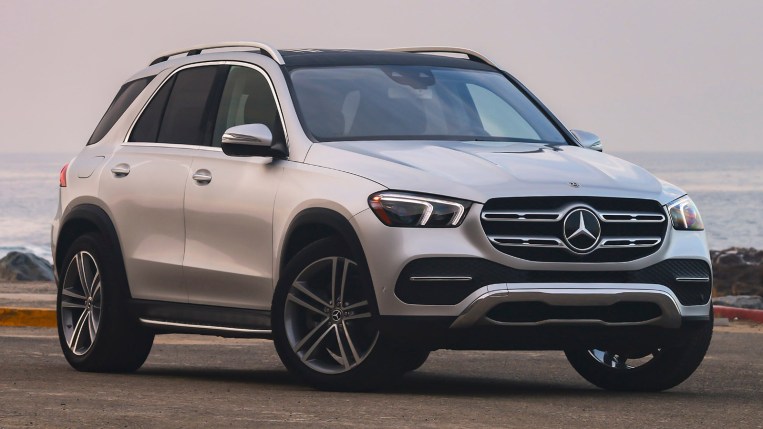 As is the case with the Audi Q7, the Mercedes-Benz GLE has a maximum tow capacity of 7,700 pounds. With the GLE, you can tow a trailer that size behind either the turbocharged 4-cylinder GLE 350 with 4Matic all-wheel drive or the more expensive, more powerful GLE 450. The GLE is every bit a Mercedes-Benz, with an elegant cabin that houses high-tech infotainment and touchpoints and materials that exude quality.
The only towing option Mercedes lists is a Class III trailer hitch ($575), which includes the wiring harness for the trailer lights. Every GLE comes with trailer stability assist, and the engine, cooling system, and transmission are already set up for towing.
If you want a larger Mercedes SUV that can tow, the Mercedes-Benz GLS is also rated to tow 7,700 pounds. See Mercedes-Benz GLE models for sale
2022 BMW X5
Towing Capacity: 7,200 pounds
MSRP: $60,600 | Rating: 4.7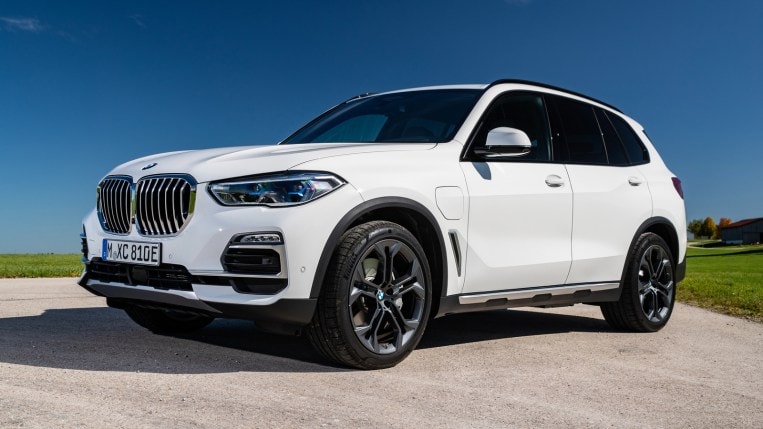 The BMW X5 is designed to have the performance and driving thrills this brand is known for. The topline X5 M50i is powered by a 523-horsepower V8 with 553 lb-ft and all-wheel drive. Not only is this model quick, with a 0-60 time of 4.1 seconds, but it's an impressive tow vehicle, too. It can tow up to 7,200 pounds.
BMW's rear-wheel-drive X5 sDrive40i is also rated to tow 7,200 pounds. However, with all-wheel drive, that number drops to 6,603 pounds. To tow at these numbers, you'll need to get the factory-installed tow hitch ($550). The larger BMW X7 provides a bump in towing capability over the X5 to 7,500 pounds. See BMW X5 models for sale
2022 Jeep Grand Cherokee
Towing Capacity: 7,200 pounds
MSRP: $38,325 | Rating: 4.1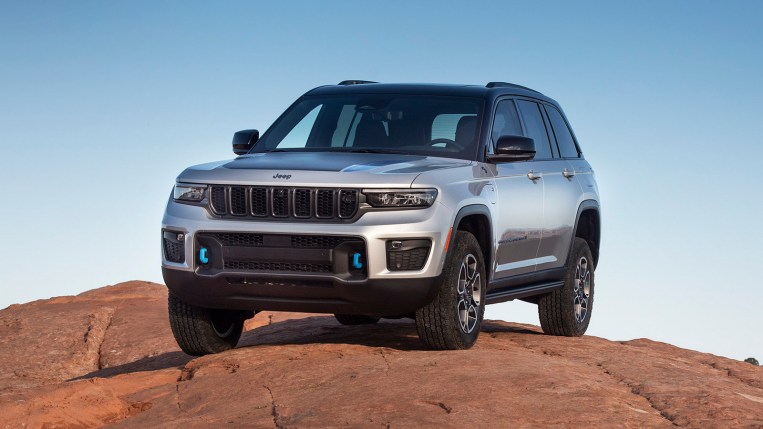 The all-new Grand Cherokee is now available in two sizes — the 5-passenger Grand Cherokee and the 7-passenger Grand Cherokee L. It's just as capable off-road as the previous model, and is just as adept at towing, too. When the 2022 Jeep Grand Cherokee is equipped with the 3.6-liter V6, it can tow a 6,200-pound trailer. Moving up to a Grand Cherokee with the 5.7-liter V8 and 4-wheel drive increases towing capacity to 7,200 pounds. Grand Cherokees with V8 engines come with a larger rear axle, too.
The trailer-tow prep group ($695) includes heavy-duty engine cooling, rear load-leveling suspension, a full-size spare tire, a 180-amp alternator, trailer hitch zoom, and an automatic headlight leveling system. It's available on both body styles of the Grand Cherokee for the same price. See Jeep Grand Cherokees for sale
2022 Lincoln Aviator
Towing Capacity: 6,700 pounds
MSRP: $51,780 | Rating: 3.0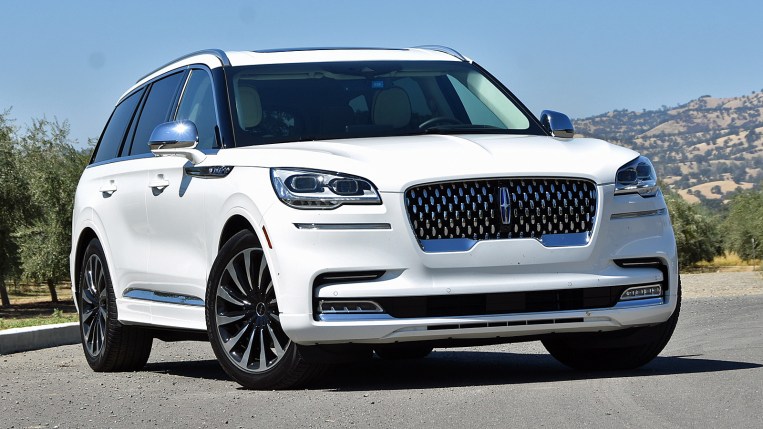 The Lincoln Aviator is a posh 3-row midsize luxury SUV with one of the nicest, most comfortable interiors out there, but it's also quite capable. The Aviator can tow 6,700 pounds when equipped with the trailer tow package. That package, which includes a Class IV hitch, 4- and 7-pin connectors, trailer sway control, blind-spot alert, and cross-traffic alert that also covers the trailer, only costs $500.
The 2022 Lincoln Aviator is based on a rear-wheel-drive platform, which is unusual in a segment that mostly uses front-wheel-drive chassis. The Aviator uses a 400-horsepower twin-turbo V6. There's also the Grand Touring plug-in hybrid with 494 horsepower and 630 lb-ft of torque. The Grand Touring can tow 5,600 pounds. The Aviator's sister vehicle, the Ford Explorer, can also tow up to 5,600 pounds when equipped with a trailer tow package. See Lincoln Aviators for sale
2022 Lexus GX 460
Towing Capacity: 6,500 pounds
MSRP: $55,355 | Rating: 2.6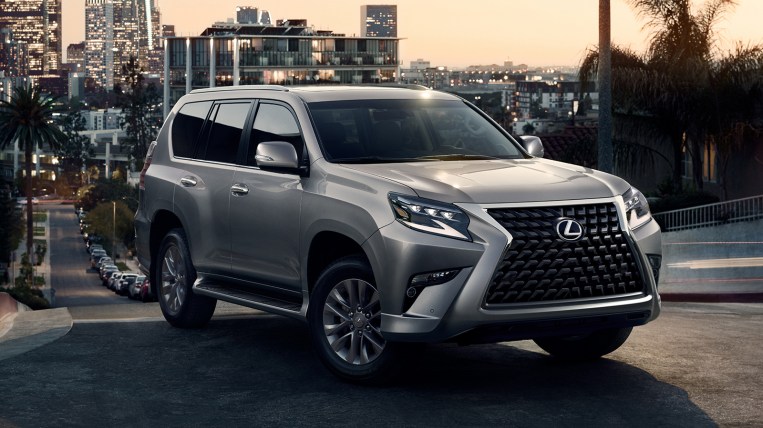 Lexus has two body-on-frame SUV models in its lineup: the new-for-2022 LX and the smaller Lexus GX 460. The GX uses a 4.6-liter V8 that generates 329 lb-ft of torque. Because of the stout construction, the powerful engine, and the GX's capable full-time 4WD system, this SUV can expertly tow 6,500 pounds. Every GX model is rated to handle that weight and comes standard with trailer sway control.
If you want to add some tow-friendly features, move to the Luxury model, which comes standard with adaptive variable suspension. This system electronically adjusts the dampers when needed. You can also add the $1,570 off-road package with the Luxury model to get a transmission oil cooler, which is a smart addition for towing. See Lexus GX 460 models for sale
2022 Nissan Pathfinder
Towing Capacity: 6,000 pounds
MSRP: $34,640 | Rating: N/A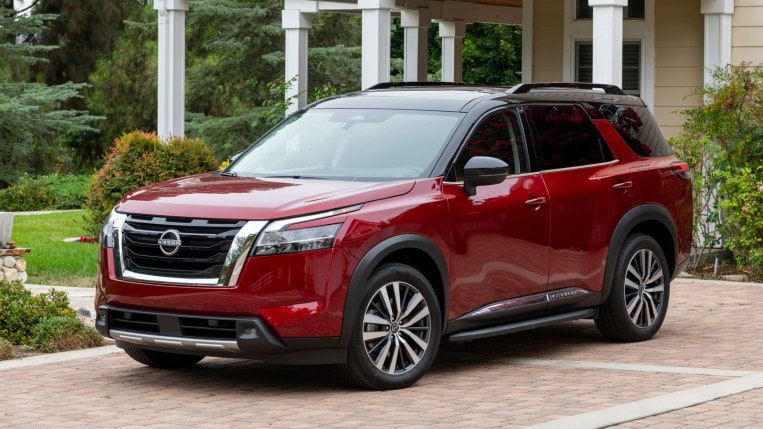 The Nissan Pathfinder is all-new for 2022, with rugged styling, a new interior, and a 9-speed automatic transmission backing up the 284-horsepower engine. One thing that hasn't changed is the Pathfinder's maximum towing capacity of 6,000 pounds. This impressive number places its towing capacity above many of its rivals. The standard tow capacity of the Pathfinder is a relatively modest 3,500 pounds. But opt for the Class III tow hitch ($425) and 4-pin wiring harness ($125), both of which are standard on the Platinum, and the Nissan Pathfinder is rated to handle 6,000 pounds. And Trailer Sway Control is standard on all models. The Infiniti QX60, the Pathfinder's luxury sibling, is also rated to tow 6,000 pounds. See Nissan Pathfinders for sale
Towing 5,000 Pounds
If you want to get into a midsize SUV that can tow 5,000 pounds, there are a lot of great options. While some of these models are rated to tow 3,500 pounds, the addition of a tow package can bring that capability up to 5,000.
| | |
| --- | --- |
| MAKE AND MODEL | MSRP |
| 2022 Acura MDX | $48,000 |
| 2022 Buick Enclave | $42,800 |
| 2022 Chevrolet Traverse | $33,700 |
| 2022 Honda Pilot | $38,080 |
| 2022 Hyundai Palisade | $33,600 |
| 2022 Kia Telluride | $33,390 |
| 2022 Subaru Ascent | $32,795 |
| 2022 Toyota 4Runner | $38,105 |
| 2022 Toyota Highlander | $35,855 |
| 2022 Volkswagen Atlas | $34,335 |
Best Compact SUVs for Towing
2022 Jeep Cherokee
Towing Capacity: 4,500 pounds
MSRP: $33,995 | Rating: 3.4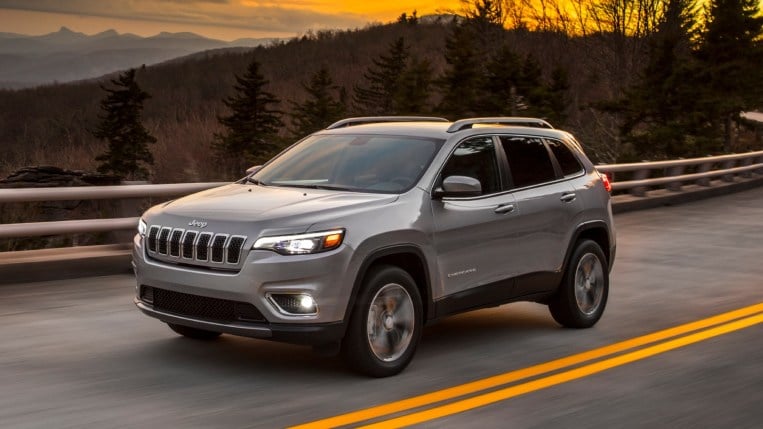 The Jeep Cherokee is one of the most rugged SUVs in the compact segment. And it has to be — otherwise, it doesn't live up to the Jeep name. That added level of capability and toughness does mean this vehicle is heavier than others in this class. The Cherokee is available with two engine choices, but there are actually three different towing capacities. Each engine has its own towing capacity rating when equipped with the $995 tow package, which includes a hitch and wiring harnesses.
When the Cherokee doesn't come equipped with the trailer tow package, it has a 2,000-pound towing capacity. With the $995 package, the 270-horsepower 2.0-liter turbocharged 4-cylinder engine can handle a 4,000-pound trailer. Add the towing gear onto the Cherokee with the 271-horsepower 3.2-liter V6, which comes standard in the Latitude Lux, Limited, and Trailhawk, and it can tow 4,500 pounds. See Jeep Cherokees for sale
2022 Land Rover Discovery Sport
Towing Capacity: 4,409 pounds
MSRP: $43,300 | Rating: 2.8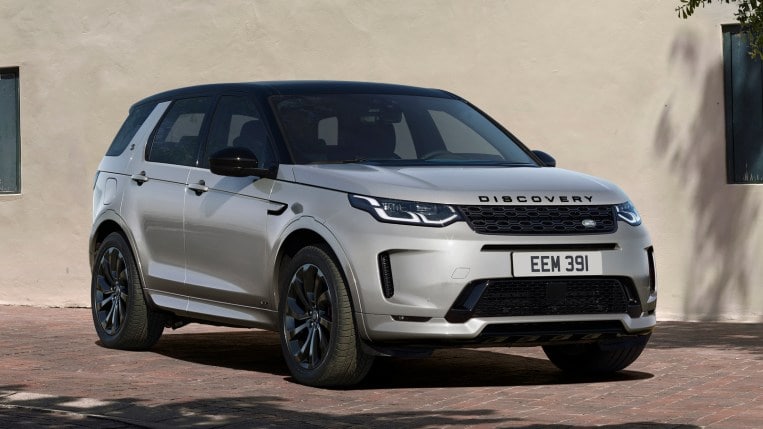 Land Rover is another brand that's known for its off-road prowess and impressive capability. That reputation includes even the smallest models in the lineup, such as the Land Rover Discovery Sport. And while the Range Rover Evoque shares its underpinnings with the Disco Sport, the Evoque can tow 3,968 pounds while the Land Rover can tow 4,409.
The Disco Sport's trailering hitch is a reasonable $650 addition, and it requires auto-leveling headlamps. You may also want to consider getting Advanced Tow Assist. This uses the vehicle's camera system to help you align the trailer with the hitch. It requires a few other helpful features, such as the 360-degree camera system and auto-dimming and heated mirrors. All in, that adds almost $2,000 to the price of a base model. See Land Rover Discovery Sport models for sale
2022 Audi Q5
Towing Capacity: 4,400 pounds
MSRP: $43,300 | Rating: 4.7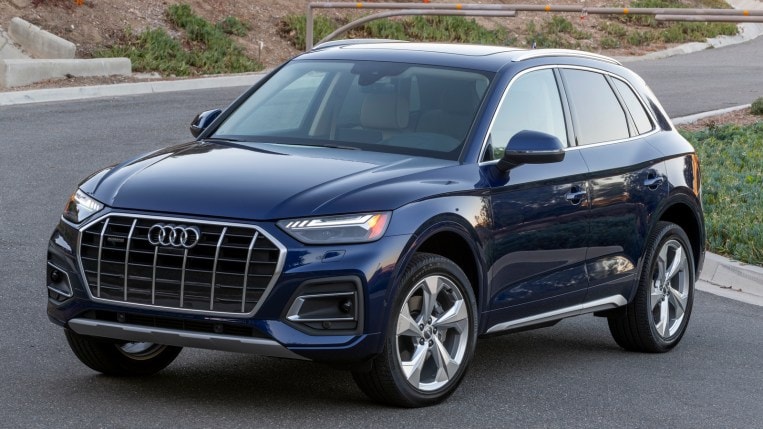 The 2022 Audi Q5 is one of our favorite SUVs. This past Best Buy winner boasts sporty handling, an elegant interior, and modern tech. It also is a capable tow vehicle. Whether you look at the standard Q5 45 model powered by a 262-horsepower turbocharged 4-cylinder engine or the SQ5 with a 349-horsepower 3.0-liter V6, it will tow 4,400 pounds. However, the plug-in hybrid model is limited to 2,000 pounds. Audi doesn't offer a specific tow package to achieve this towing capacity. See Audi Q5 models for sale
2022 Ford Escape
Towing Capacity: 3,500 pounds
MSRP: $26,760 | Rating: 3.7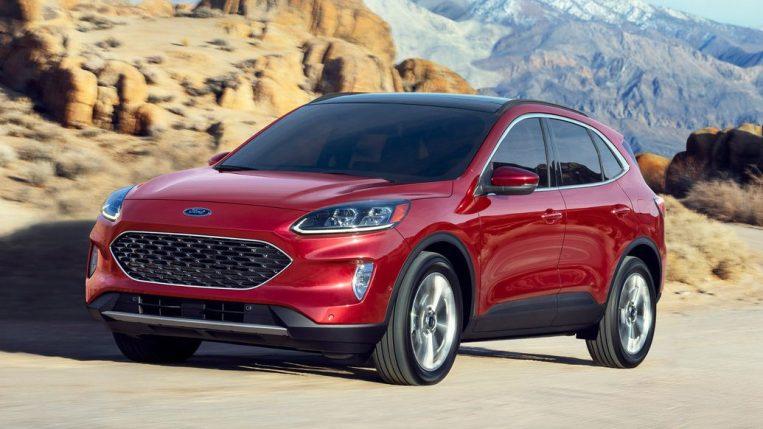 The 2022 Ford Escape is a compelling small SUV that's available with four powertrains, including a hybrid and a PHEV. However, there is only one that will give the Escape a 3,500-pound towing capacity. Models with the 1.5-liter turbocharged 3-cylinder can tow 2,000 pounds, and hybrid models can only handle trailers that weigh 1,500 pounds.
The 250-horsepower 2.0-liter EcoBoost 4-cylinder with 280 lb-ft of torque is optional with the Escape SEL and includes all-wheel drive. This combination is standard on Titanium models. That addition of almost 100 lb-ft of torque over the 1.5-liter is a big part of the reason why these specific models can tow 3,500 pounds when equipped with the trailer tow package. When you add in the Class II Trailer Tow Package ($495) and the 302A equipment group that comes with the EcoBoost engine ($2,865), the Escape nets a receiver hitch and wiring harness, trailer sway control, and an auxiliary transmission oil cooler. Interestingly, the Ford Bronco Sport, which shares this very same chassis, is capped to a max tow capacity of 2,200 pounds. See Ford Escapes for sale
2022 Toyota RAV4
Towing Capacity: 3,500 pounds
MSRP: $26,975 | Rating: 4.8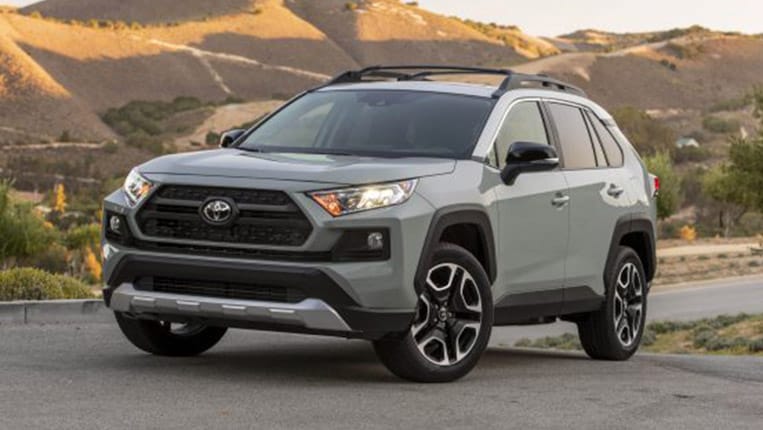 We are big fans of the Toyota RAV4, which is this year's Compact SUV Best Buy. This vehicle can do it all — there are upscale models, sporty trim levels, and off-road-biased choices. And it can tow a 3,500-pound trailer. You just have to make sure you pick the right trim level.
The most affordable trim level that can tow 3,500 pounds is the Adventure. While all RAV4 trim levels come standard with trailer sway control, the Adventure and the TRD Off-Road also benefit from Toyota's dynamic torque-vectoring all-wheel-drive system. This can send up to 50% of torque to the rear axle and can adjust the amount of torque that is sent from the left and right. With that system, the RAV4 is rated to tow a 3,500-pound trailer. Without it, capacity tops out at 1,500 pounds. See Toyota RAV4 models for sale.
2022 Volvo XC40
Towing Capacity: 3,500 pounds
MSRP: $35,100 | Rating: 4.5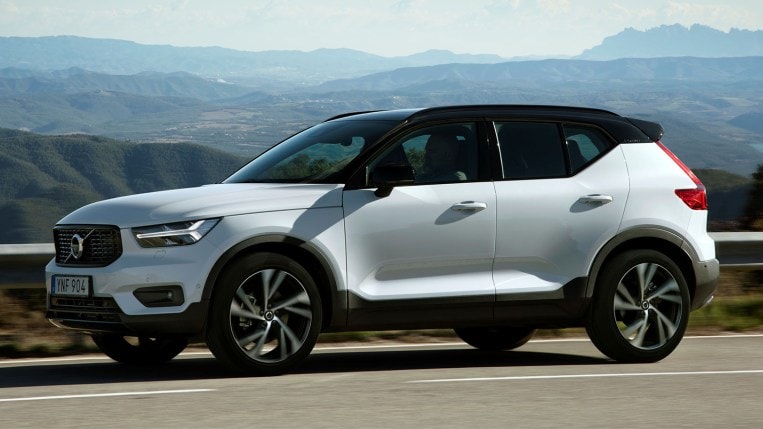 The Volvo XC40 is stylish, upscale, and chic, but it hides a secret — it can tow up to 3,500 pounds. Every XC40, with the exception of the Recharge (with a 2,000-pound capacity) can tow this much. So the XC40 can handle work, too. We recommend you add Volvo's Class II trailer hitch for $1,125. It comes with trailer stability assist — if the trailer starts to move side to side, this system uses one or more of the XC40's brakes to maintain control. The 3,500-pound towing capacity applies to both front-wheel-drive and all-wheel-drive models with either the standard or optional engines. See Volvo XC40 models for sale
Read Related Stories:
Source: KBB Feed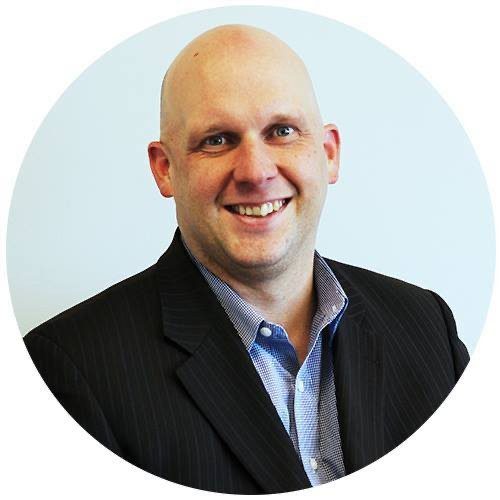 Shawn Ryder Digital is headed by a seasoned professional with a wealth of experience in both the automotive industry and technology. With over 20 years in the car sales industry, our expert brings a deep understanding of the unique challenges that come with selling cars in the digital age, having worked in both sales and management positions. They also have a strong background in technology and a proven track record of using digital marketing tactics to drive sales and increase brand awareness. Shawn Ryder combines this automotive industry knowledge and digital marketing expertise to provide dealerships with customized and effective marketing solutions that drive results. We are dedicated to helping dealerships thrive in the digital age and are confident in our ability to help you reach your goals and grow your dealership.